In the summer of 1998, my mom dropped me off for my first week at overnight camp. I was only eight years old, but I vividly remember not being phased by the fact that I was over two hours away from home. Many of the children around me were holding onto their parents for dear life with tears in their eyes on that beautiful, hot, and humid Sunday afternoon, not wanting to be abandoned in this strange place with cabins on stilts and surrounded by pine trees. I am pretty sure I took one look at my mom and said "Bye! Love y…." I hope I didn't hurt her feelings, but I was just being the wildly adventurous child she raised. I loved the feeling of freedom and independence. Homesickness was a completely foreign concept to me. I wanted to say to the crying kids, "Chill out, you'll see them on Saturday." Eye roll included. The ability to feel sympathy for others came later in life.
In the summer of 2008, I left my hometown for College Station, Texas to attend Texas A&M University. Once again, I was over two hours away from everything I knew. After my parents helped me settle into my shoebox sized dorm equipped with community style bathrooms (more eye rolling from the princess, of course), a tear or two streamed down my face as they drove away. I sniffled, wiped my nose with my sleeve, and went on to have the best four and a half years of my life. The amount of independence and freedom bestowed upon me was utterly liberating.
In December of 2012, I walked across the graduation stage, diploma in hand, with the biggest smile I could muster. I was thrilled to start my life as a young professional. I moved back to my hometown, but in my mind it was only temporary because I was going to get an awesome job with a great salary and incredible benefits in a big city. God must have thought that was hysterical because every application I sent out was either ignored or rejected. I could feel my independence and freedom dwindling day by day while living under the same roof as my parents. After getting over the initial depression of not being able to do what I wanted when I wanted, I began to immensely enjoy my time in Beaumont. I landed a job as an Administrative Assistant in the office of a private school and had a solid routine for the first time in my adult life. Everyday I woke up, drank a big cup of black coffee, watched the news with my parents, went to work, came home, played with my dog, ate dinner, watched The Bachelor or some other crap show on Bravo, and went to sleep.
Routines have never really been my thing. As happy as I was going through the same motions day after day, I woke up one morning and just couldn't do it anymore. I was not being fulfilled. Something needed to change.
The idea of becoming an au pair has been in the back of my head for about five years. When I started to realize that I could potentially make this fantasy of mine a reality, I confided in close friends and family members. When explaining the possibilities buzzing around in this chaotic head of mine, many of their responses were along the lines of: "Wow!", "That's amazing!", "I wish I could do that!", "Sounds like an experience of a lifetime!', "Go for it!", etc. The only responses that included hesitation were understandably based on finances. After working for two years and living at home rent-free, I knew that it was manageable.
Now that I have been away for over a month and a half, I am starting to understand the beauty in the simplicity of the routine life I built. I have already missed two weddings of childhood friends and would do just about anything to cuddle with my spastic fur beast (aka Yogi the dog). No studies have been conducted (to my knowledge) that conclude missing your dog's 3rd birthday is psychologically damaging to the animal, but I feel immense guilt for taking the chance. Homesickness is something that I never saw coming. I am in one of the most amazing places in the world, but I still wake up hoping to smell fresh American drip coffee from my cosy bed. The sweet bird chirps outside my window have been replaced with the sounds of seagulls, squawking like they are either giving birth or taking their last breath. Meeting new, incredible friends on this journey has made my friends back home that much more special. I knew that traveling would change me, but I was not aware of how much this experience would make me treasure where I came from. I feel so fortunate to have people in my life that make leaving difficult.
FLORENCE + PISA
On the morning of June 20th, I left Rome for the first time since arriving. I knew that I wanted to visit Florence while I was in Italy, so I quickly planned a trip with another au pair. I met her through a Facebook group specifically for au pairs living in Rome. This is the first time I have ever booked a trip with a complete stranger and I must say it was mighty successful!
The trip got off to a mildly rough start. Carleigh from Canada, my weekend adventure buddy, was staying with her host family an hour outside of Rome. Our plan was to meet at Termini, the main train station in Rome, around 7:30am. This would allow enough time to eat breakfast and take the train together to Florence at 8:50am. Unfortunately for Carleigh, her train to Rome got cancelled and was not able to make it in time for the train we booked together. My immediate thought is completely selfish: So you're telling me I have to ride a train BY MYSELF???? Ok breathe, Colleen. I do my best to stay calm and collected because I know Carleigh is a million times more stressed out than myself. Once the train pulls into the Termini station, I board and ask for directions to my seat. English subtitles on the ticket would have been helpful, but I'm starting to realize not understanding anything is all part of the experience. As I sit down, I realize it's actually quite comfortable. This train is immaculately clean, equipped with wifi and personal outlet stations for charging electronic gadgets. Not shabby in the least. Since I knew Carleigh wasn't coming, I unapologetically hijacked her place next to the window. All my worries are now a distant memory as I put my headphones in and slouch into seat 14D.
Thankfully trains are constantly running from Rome to Florence, so Carleigh arrives less than an hour later than myself. The weekend has begun! Our first order of business is to stop by the hostel to check-in and drop off our bags, which is a 10 minute walk from the station. I am so glad that I brought a backpack because the roller suitcases are no match for the uneven cobble stone streets. We have a private room with two twin beds and a small bathroom, perfect for a one night stay. By this time it is around noon, so we venture out to find lunch. The panini place suggested to me was unfortunately closed, so we stopped at the first place we saw. It also sold paninis…. vegan paninis. They weren't half bad, but the staff was super friendly (something I have found to be extremely rare in Italy).
I'm in Florence in the middle of the day on a Saturday…. what to do? Climb the Duomo, of course! [Edit: For those who don't know, 'Duomo' is a term for an Italian cathedral church. This particular Duomo is the Cattedrale di Santa Maria del Fiore, which translates to Cathedral of Saint Mary of the Flower and is the main church of Florence.] The line to climb to the top is wrapping so far around the building we cannot see the entrance. I see multiple people holding ticket stubs, so waiting in line will clearly do us no good if we do not present these at the door. Carleigh holds our spot while I grab us a couple from a nearby (air conditioned, ahhhhhhhh) sales office. Here is my two cents about the Duomo. First, the good news. The view from the top is absolutely breathtaking. Once you get up there, no one is rushing you to get down and you can take all the pictures you please. It is a 360 degree view and, after bitching the entire way up, I am speechless to be looking out over an entire city. Second, the bad(ish) news. Carleigh and I, without a doubt, picked the worst time to climb this beast of a structure. There are 463 steps to the top (thanks, Google) and the entire second half you are in an extremely claustrophobic, cement, spiraling staircase without ventilation. I believe they are working on the concept of 'one man in, one man out' at the top. When there are so many people climbing these stairs in front of you, inevitably there are times when you will be stuck standing still and sharing oxygen with hundreds of strangers. The sweat-soaked air is practically palpable and I thought I was going to lose my mind a few times every minute during that hour long journey to the top. However, I have more good news. If you decide to climb the Duomo, which I suggest you do if you find yourself in Florence, do yourself a favor and go first thing in the morning. You will not have the line of people holding you up and you will probably climb it in half the amount of time as it took us. Also, if you are able, do it on a weekday. Weekends are obviously more infested with tourists. This should go without saying, but buy your ticket before getting in line.
Once we completed our Duomo climb, we wandered around the city a bit longer. I really wanted to see the David statue, but my lack of research prevented that from happening. Apparently every museum closes at 6:00pm. We showed up around 5:00pm, but the people at the front of the line said they had been waiting for over an hour (with tickets they bought prior to getting in line), so seeing this iconic piece of art just wasn't in the cards for us. Thankfully there is an exact replica standing in the original location (the David was moved inside a museum for preservation), so we got to experience the grand scale of the statue. With the little amount of research I had conducted, I read that one of the best things to do in Florence is to go to the top of Piazzale Michelangelo for the sunset. This did NOT disappoint. Honestly, this was my favorite part of the entire weekend. There was a small market, live music, and people sharing bottles of wine having a genuinely badass time. Carleigh and I arrived at the perfect time, grabbed a couple of Italian beers (Peroni to be exact), and claimed some prime seating overlooking the city. The Arno River runs through the center, under a series of bridges, and straight towards the descending sun. As the sun was setting and the clouds faded from blue to purple to pink to orange, I could not believe that I was lucky enough to feast my eyes on something so spectacular and majestic. Pictures are no substitute for experiencing this in the flesh.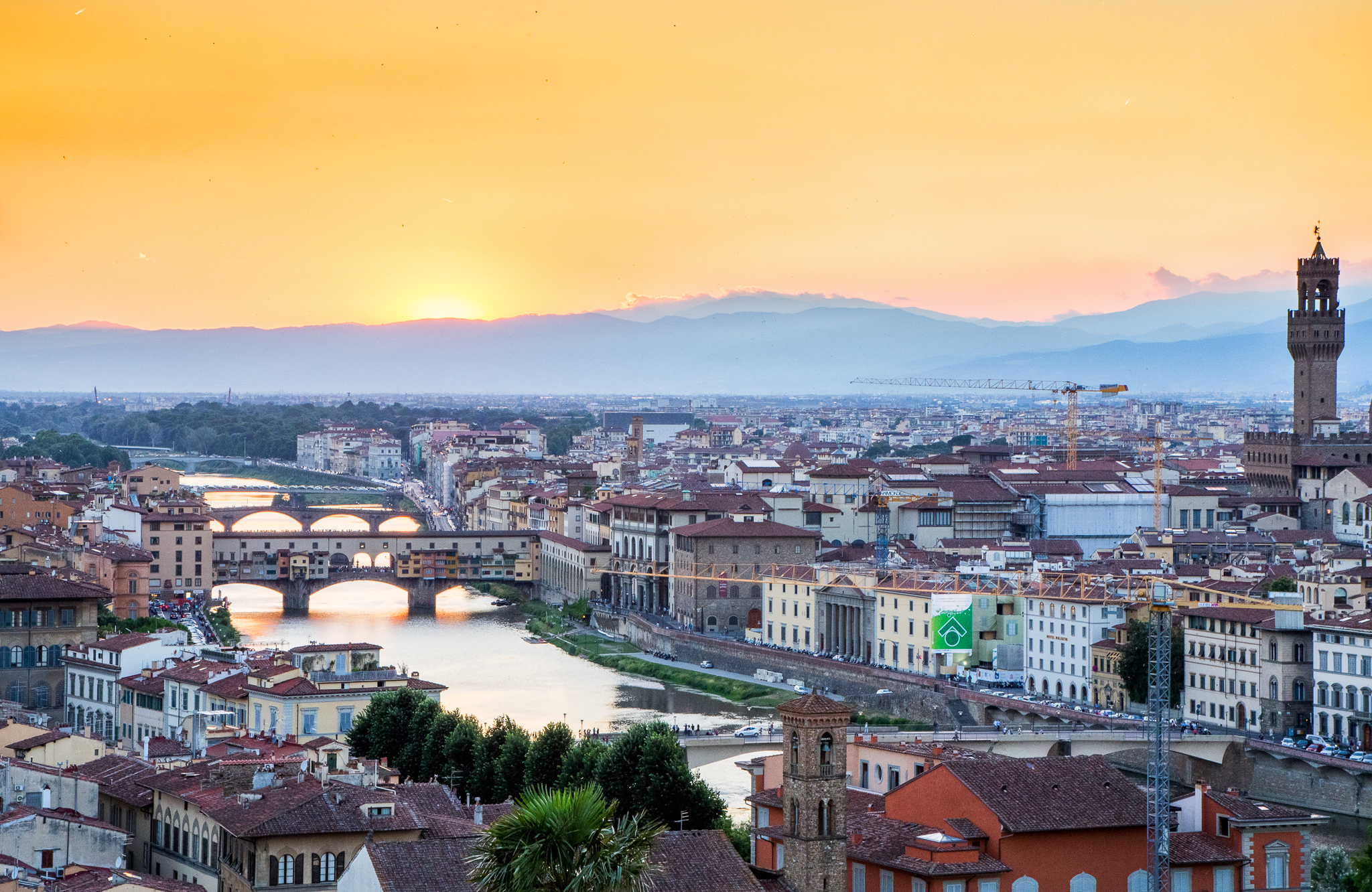 We went back to our hotel to shower and change for the evening. By the time we got out the door, it was 11:00pm and we were starving. We decide to stop at the first restaurant that looked decent. As we ask to see their menu, we learn that the kitchen closed at 11:00. Not only does their kitchen close at that time, all restaurant kitchens do. We fortunately found a nearby pizza place open for another half hour that looked to be buzzing with locals. As we decide which pizzas we want to devour, the man draws a heart around our order. I found this strange, but shrugged it off and located the only empty table available. Our order number is called and, if you did not already guess, our pizzas were in the shape of a heart. Looking around the room, I notice we possess the only heart shaped pizzas. I find myself a little embarrassed, but also wanting to say "na-na na-na boo-boo, my pizza is a heart and yours isn't!!!!!". Sorry, this immaturity level is what happens when you work with children.
The next morning, we decided to visit the Boboli Gardens, which fortunately was only a five minute walk from the hostel. This place is humongous. Beautiful statues, fountains, and works of art are hidden in just about every nook and cranny. I really wish that we could have wandered around that place for hours, but we only budgeted about 45 minutes of our time because we had no idea how large it would be.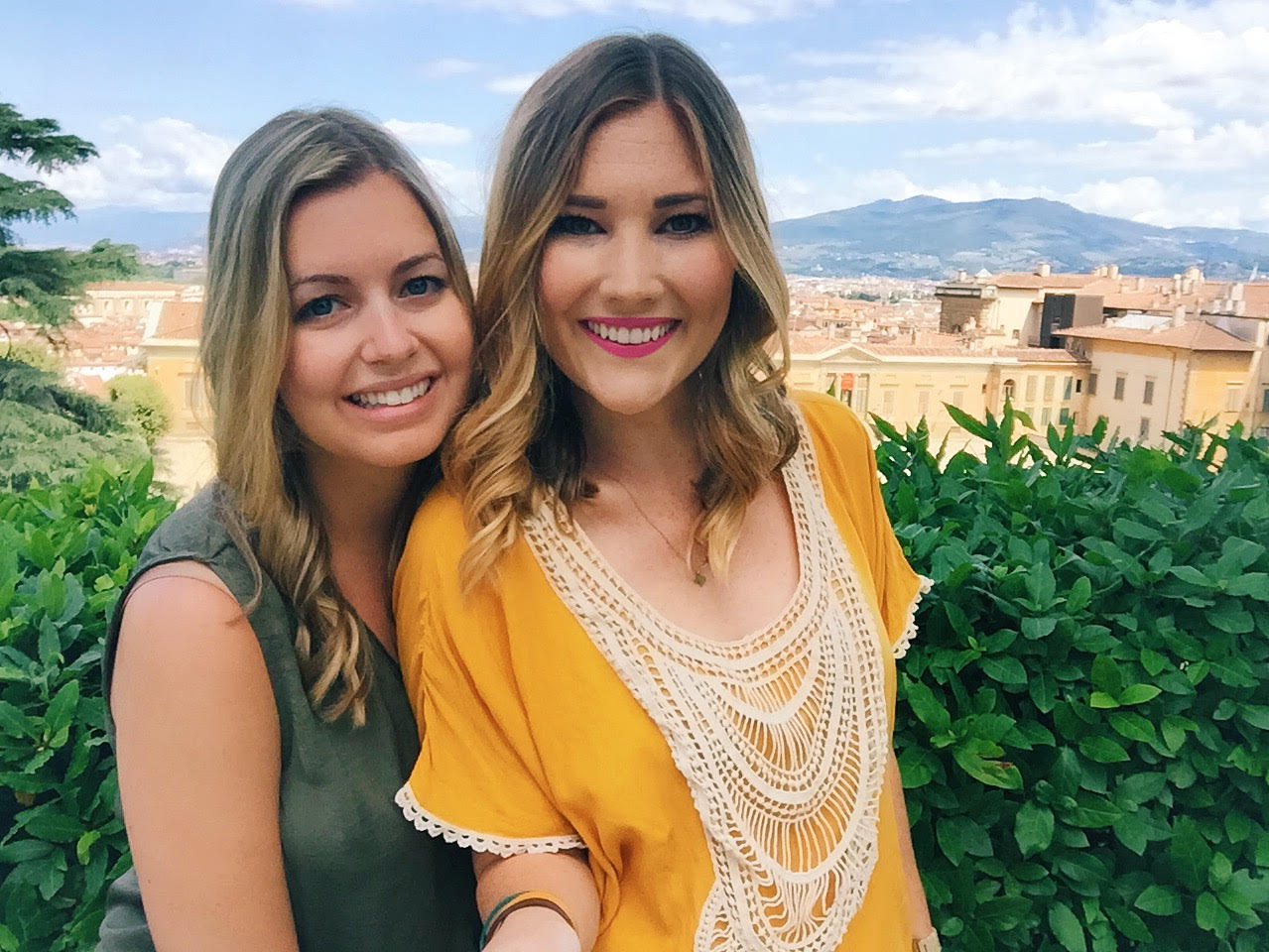 We hurry to the station, but end up missing the train we intended to take to Pisa by about five minutes because we were using the wrong ticket machine. The train station workers had us running in circles, from one wrong piece of information to the next. I have dubbed the theme for that weekend "close, but no cigar". I was told that Pisa is not a particularly exciting place to visit. Boy, is this accurate. To be fair, it was a Sunday and many things were closed, but I am happy that we did not dedicate more than an afternoon to this destination. We got our touristy pictures with the leaning tower and scrammed. While at the tower taking photos, we were bummed to find out we could not stand on the grass. Many of the pictures we saw online had people posing on the grass. Was this some new rule? As we are wrapping up our final creative poses with the tower, we see a couple of teenagers hop over the single chain rope fence. A few more followed. Before we knew it, tons of people were hopping this fence to get pictures on the grass. Carleigh and I make eye contact, shrug at each other, and follow suit. After about 10 or 15 minutes of solid picture taking, the guards come out with their whistles and everyone screams and scatters like cockroaches. As we are walking away with our hearts beating out of our chests because we clearly just defied death, I turn and see the guards laughing hysterically. Apparently we had not committed a serious offense.
On Saturday, July 11th, we arrived at the sea for a three week vacation. We are staying in an area called Giannella, which is in the south of the Tuscany region. Despite my greatest efforts of lathering on 70+ SPF, my pale skin and freckles just weren't made for this lifestyle. I'm not completely fried, but this is about as crispy as I should get. Our condo does not have wifi and my phone has limited data, but it feels cleansing to disconnect a bit. I was able to travel back to Rome for a day last week. Naturally, I spent all day in bed (out of the sun) eating pizza and indulging in a guilt-free Friends marathon on Netflix. No, I'm not a monster. I caught up on The Bachelorette and Pretty Little Liars as well. I am now in Rome and taking full advantage of the wifi again, but will return to the sea tomorrow for one more week of fun in the sun.
Traveling is not all rainbows and butterflies. Just like back at home there are good days and bad days. Being away from the comforts of home has made me realize what is truly important, as well as learn what I can live without. There is a price to pay when leaving everything dear to your heart, but I hope when I look back on my life I will never regret the choice I made to chase all the independence and freedom this life has to offer.